Very proud of our CISO Alden Wilson for heading up our Rewst initiative and helping raise the tides for the rest of the MSP Channel!
Workflow Wizards: Alden Wilson speedruns his way to building automations with Rewst
Discover how Alden Wilson got up to speed with Rewst and built a workflow that optimized his organization's operations for the better. Join our Workflow Wizards series to see who is best suited for automation expertise.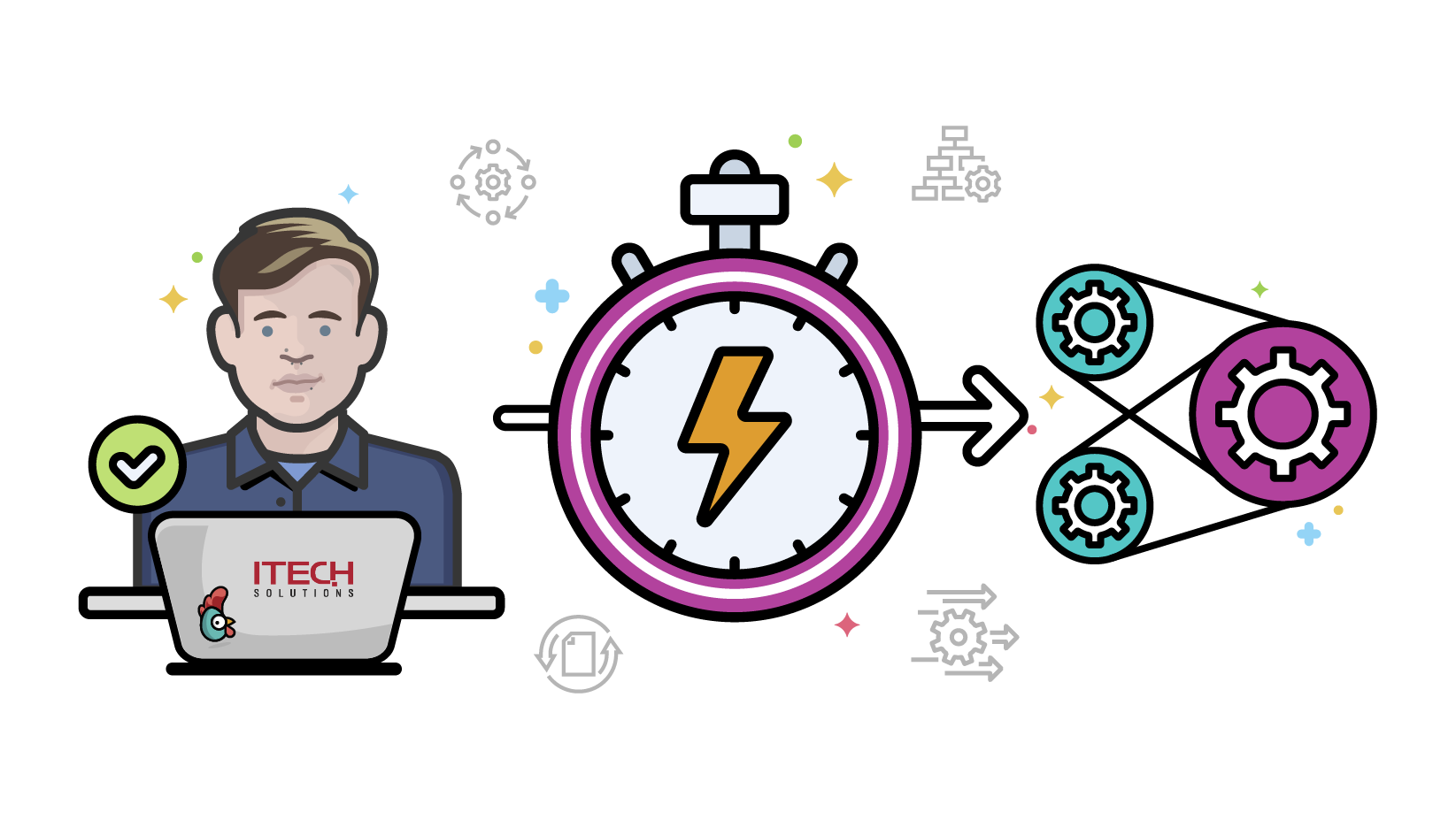 CUSTOMER STORIES
 / 
AUTOMATION
 / OCTOBER 8, 2023
Welcome to the third installment of our Workflow Wizards series, a journey through the minds of MSP automation experts. We recently showcased Kris Peck from Omega Computer Services, whose automation prowess led to the creation of an entire automation department.
Now, let's meet another automation genius, Alden Wilson, who, just eight days into learning our platform, built a workflow that changed how his organization, ITECH Solutions, handles operations for the better.
Read on to discover how Alden's journey with Rewst highlights the power of starting small, embracing our community, and gradually automating outdated tasks to achieve significant efficiency gains. His hit-the-ground running approach shows what you can do with automation when you go into it with the right mindset.
What is your professional background?
I started working in an offshoot of Autodesk, where I started delving into CI/CD pipeline automation.This experience piqued my interest in making processes repeatable, but it was heavy work.
From there, I transitioned into the MSP world. Today, I'm the CISO for ITECH Solutions, where I'm responsible for securing client networks, and software/hardware vulnerability testing and remediation.
Did you have any automation experience before Rewst?
Before Rewst, I had hands-on experience with PowerShell and Python for various projects, from penetration testing to software deployments. I was frustrated by the limitations of scripting and how it really only allowed you to do one-off automations, not broader multi-tenant automations.
How were you introduced to Rewst? What was your initial reaction?
My journey with Rewst began with an introduction from Brandon Martinez, who showed me the potential of multi-tenant automation. He got me hooked on Rewst and showed me it's not only possible but really easy.
After Brandon introduced me to Rewst, I was instantly curious why this approach wasn't more widespread. Automating repetitive tasks seemed like a logical evolution, and Rewst provided the perfect platform. I realized that with automation, you can fix many problems at once, including things you didn't even know were problems.
What was most helpful when learning Rewst? Did you have any 'Cluck yeah!' Moments?
I had a ton of ideas when I started using Rewst, based on the list of integrations that were available. Attending the Friday ROC Open Mic calls and just diving into the platform allowed me to see what was possible. I spent a day or two chipping away at my ideas until I had built a basic automation. Part of the learning process was reaching out to the community in Discord for guidance. What does this mean? What am I doing wrong? Repeatedly.
As I built my first workflow, I realized the potential to transform how tasks were handled. The 'aha' moment was when my first automation solved a massive problem within my team.
What are some workflows you've built? Which are you most proud of?
My first significant workflow tackled same-day emergency emails by automating responses, notifying on-call techs with Teams messages, and sending text notifications based on specific conditions. We essentially created an emergency ticketing system that queries internal techs, alerts the right person, and sends interactive notifications, all while ensuring fail-safe follow-up. Our last process for on-call techs was super outdated.
This workflow also uncovered issues in our processes, like incorrect SLA notifications. I'm quite proud how it transformed my team's outlook on handling emergencies.
What's your approach to building a new workflow?
I believe in involving everyone's input and translating their needs into a skeleton workflow. I encourage team members to draw their ideas visually, which I bring into Rewst. Most of my team members are not developers, so they may not know how to reach the goal, but they do know what they want to put in and what they want to get out.
It's a step-by-step process of automating smaller tasks and progressively piecing them into a comprehensive workflow. Sub-workflows play a significant role in building up to larger automations.
How has Rewst impacted your role at ITECH Solutions?
Rewst has matured my perspective. I now focus on addressing repeated issues, uncovering trends, and enhancing our processes. It lets me take a step back, a breath, and then think,
"Is this something that is going to:
A) Help us financially,
B) Help with client retention, or
C) Help with prospecting?"
Rewst has pushed me into more C-level thinking.
It propelled me into a more strategic and managerial mindset, allowing me to collaborate more closely with management to achieve a higher level of maturity within our operations.
What advice do you have for new Rewst users?
Start small and work your way up. Don't get discouraged by attempting to build complex projects from the get-go. Embrace that automation is a journey and use Rewst's capabilities to your advantage. Also, don't aim to replace your service desk; aim to strengthen it.
What did you want to be when you grew up?
As a kid, I aspired to work at Norton and enhance its antivirus software, making it less resource-intensive and more effective in combating threats. I've always been a software person at heart, so it's hard for me to answer anything that isn't some sort of software engineer from a young age.
What do you do for fun?

I engage in large language model development and run a self-hosted version of ChatGPT. My spare time is devoted to community-based programming projects, and I'm an avid fan of playing and speedrunning classic video games from the Super Nintendo era. I like Zelda. Puzzles and challenges are my thing, both in code and games. I also follow events like Games Done Quick, where games are speedrun to raise funds for charitable causes.
Original link: Workflow Wizards: Alden Wilson speedruns his way to building automations with Rewst